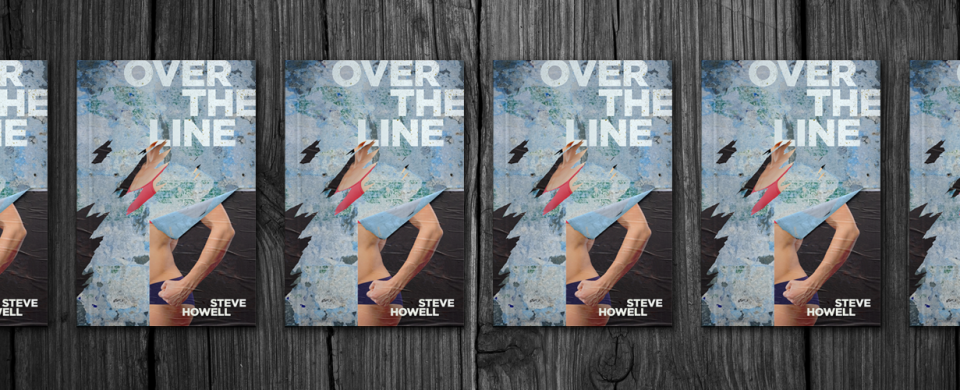 A new novel tackling the issues of drugs in sport and the rapid spread of steroid abuse for image-enhancing body-building is set to be published on 1 March in paperback and on Kindle.
Written by former BBC and South Wales Argus journalist Steve Howell, Over The Line tells the story of how Britain's poster girl for the 2016 Rio Olympics becomes embroiled in a drugs scandal and a police investigation into the steroid-linked death of an old school friend.
Megan Tomos is only 21 and already a millionaire celebrity popular with fans and sponsors. In a few weeks, she will be going to Rio favourite to win the Gold medal in the sprint hurdles.
But Tomos's celebrity status means nothing to a meticulous police inspector and a bereaved mother who are determined to find the truth about the death – two years earlier – of Matt Davies.
Suspicion descends on Megan when it emerges she is still in touch with Will Driscoll, an ex-boyfriend who was present when Matt died and who's been banned from playing rugby for taking steroids.
When the police reopen their investigation into Matt's death, Megan disappears. The police suspect she has been less than truthful – and even her coach, Liam McCarthy, begins to have doubts.
Set mainly in Newport and London and told through the eyes of Liam, Over The Line is the first novel of former sports writer Steve Howell. It will be published by Quaero in paperback and via Amazon on Kindle on March 1.
Howell, who grew up in Hendon and lives in Newport, says he chose this theme for his debut novel because of his concern about the dramatic rise across Britain in the number of image-conscious teenage boys using steroids for body-building regardless of the deadly risks.
"The likes of Lance Armstrong and Marion Jones may grab the headlines for their underhand use of performance-enhancing drugs, but there is another side to the steroid story – and its deadly implications are little understood," says Howell.
"Steroid abuse by image-conscious teenage boys for body-building is now so common that rules were changed last year to allow under-18s to receive needle exchange services to prevent the spread of hepatitis B and HIV.
"But infection is only the half of it. Use of anabolic steroids can lead to other life-threatening conditions such as high blood pressure, heart attacks, strokes and liver or kidney tumours.
"When I started thinking about writing this book seven years ago, I did not expect my faltering efforts to be punctuated so often by stories of steroid-related deaths. About 18 months ago, I was spurred to finish the book when a relative of a former colleague told me of the death of his body-builder son from a heart attack.
"Over The Line is, of course, a work of fiction and hopefully people will enjoy reading it, but the drive behind writing the book was my determination to shed some light on both aspects of steroid abuse: the elite and the everyday."
Over The Line is Howell's first novel. It will be published by Quaero in paperback and via Amazon on Kindle on March 2.
Media inquiries and review copies – Hannah Jones and Jamie-Lee Cole at Freshwater on 02920 545370 and via e mail: Hannah.jones@freshwater-uk.com and Jamie-lee.cole@freshwater-uk.com.
Orders of the paperback edition at £7.99 can be made via this website with no delivery charge – Order. A Kindle version is available via Amazon.