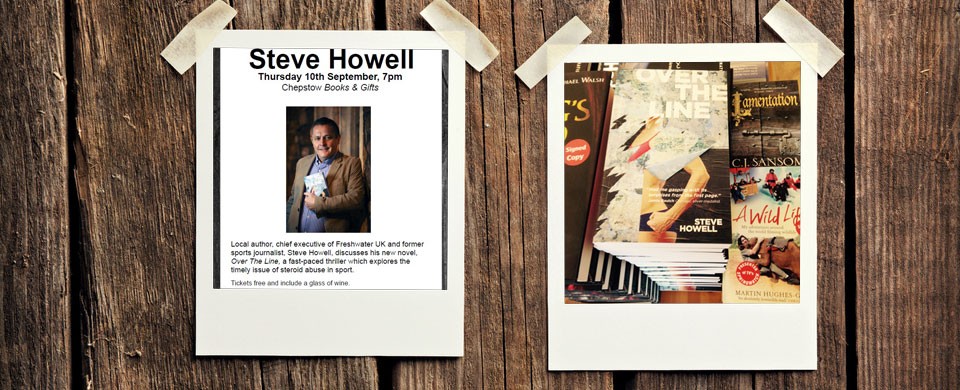 Chepstow Books & Gifts has invited Over The Line author Steve Howell to speak at an event at the store on Wednesday 10 September as part of its autumn programme.
The widely-respected independent bookshop, which has hosted high-profile writers such as Sir David Attenborough and Nigella Lawson, was among the first retailers to stock and display Steve's debut novel following the media attention it has attracted.
Set mainly in nearby Caerleon, Over The Line tells the story of a coach whose star athlete becomes embroiled in a drugs controversy after the police reopen an investigation into the steroid-related death of an old school friend.
A thriller that poses questions about trust and loss, Over The Line explores the dark world of steroid use for both image-enhancing body-building and cheating in sport.
Reviews of the book have described it as 'a novel that successfully makes a statement' (Buzz magazine), 'a fast-paced tale of suspicion, bereavement and betrayal' (Nigel Walker, Olympic athlete) and 'a gripping tale from a masterful storyteller' (Jamie Owen, TV presenter).
Matt Taylor, owner of Chepstow Books & Gifts, said: "We are delighted to welcome Steve to Chepstow to talk about his debut thriller Over The Line as part of our autumn season.
"We have an active events programme of over sixty visiting authors a year and are always passionate and enthusiastic, whether someone is already established or is a new and emerging author."
The event, which is open to anyone who registers for an invitation, will start at 7pm with a glass of wine followed by an informal talk about the book.
"I'm really looking forward to this event because of the great reputation of Chepstow bookshop and the opportunity to meet people who are interested in Over The Line," said Steve.
"This is new to me, but I think most writers would agree that it gives you a real buzz to discuss your book with people who are enthusiastic about it and talk about the story and the characters as if they are very real to them. Word of mouth recommendation is the best endorsement any author could wish for."
If you are interested in attending the Chepstow event, please telephone Jamie-Lee or Hannah on 02920 545370 or e mail jamie-lee.cole@freshwater-uk.com or hannah.jones@freshwater-uk.com
Over The Line is on sale at Chepstow Books & Gifts, 13 St. Mary Street, Chepstow NP16 5EW. Telephone 01291 625 011.
Over The Line is also available on Kindle via Amazon and in paperback at Waterstones, W H Smith and other bookshops or via this website – ORDER.