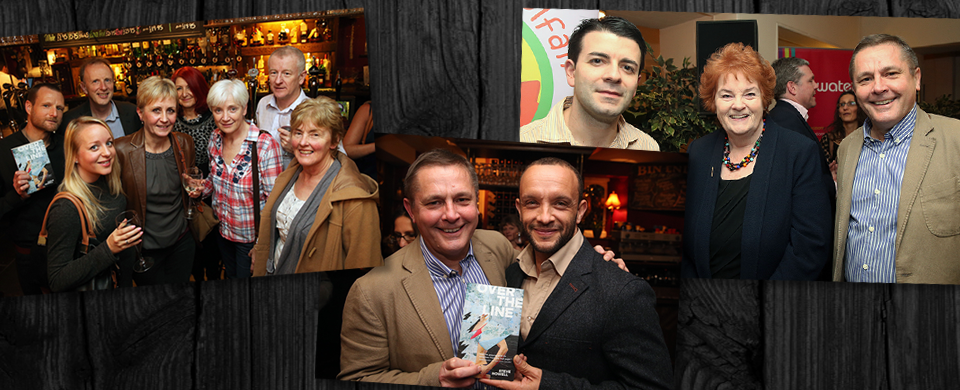 Olympic silver medallist Jamie Baulch and National Assembly for Wales presiding officer Dame Rosemary Butler were among the VIP guests at the launch of Over The Line, debut novel of former sports journalist Steve Howell.
Taking place at The Priory Hotel in Caerleon, a location that features heavily in the book, the event brought together people from sport, the media, politics and business to celebrate the publication of what the author describes as 'a thriller with a touch of humour'.
Narrated by coach Liam McCarthy, Over The Line explores how his faith in his star athlete Megan Tomos is tested when she becomes the focus of a police investigation into the steroid-related death of a school friend.
Megan is Britain's poster girl for the Rio Olympics, but her celebrity status means nothing to a meticulous detective and the bereaved mother of the boy who died.
Dame Rosemary Butler paid tribute to the novel and its author, saying: "I'm delighted to be here. Steve has written this amazing, interesting book, and it's great having the launch in the hotel where it all takes places."
The novel has been well received in sport and the media. Jamie Baulch said it had him "gasping with its surprises from the first page", while broadcaster and author Jamie Owen called it "a gripping tale from a masterful storyteller".
Nigel Walker, former Olympic hurdler and Welsh rugby international, now National Director of the English Institute of Sport, said: "It's an informed, fast-paced tale of suspicion, bereavement and betrayal that tackles steroid abuse head-on."
Steve Howell said: "I was really pleased to see so many people come out to support the launch. The Priory is a really evocative setting. As it says in the book, you half expect Richard III to pop out of the shadows making a speech about treachery, which is appropriate because that's one of the issues at the heart of the story.
"The police investigation into Megan's connection with a steroid-related death triggers a series of revelations and events that raise big questions for both Megan and Liam.
"I wanted to show how it feels from the inside when a drugs scandal rears its head and casts doubt and distrust across everyone.
"But it's also an optimistic story that shows the strength of the underlying human values that underpin sport and make it such an important part of social life."
Steve Howell's Over The Line is on sale in paperback via www.steve-howell.com, www.gwales.com and through independent bookstores and Waterstones, priced £7.99. A Kindle edition is also available on Amazon at £3.49.
The launch was sponsored by Freshwater UK, the Cardiff-headquartered communications consultancy.
Photographs (left to right): members of Caerleon Running Club; Steve Howell and Jamie Baulch; Priory general manager with Dame Rosemary Butler and Steve Howell.