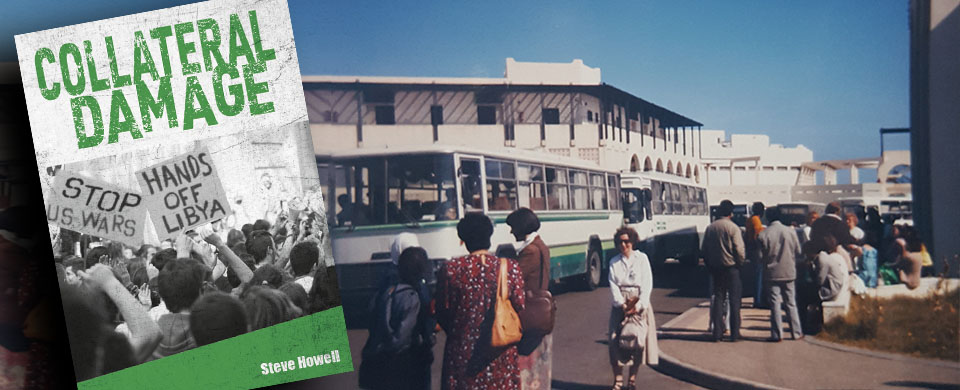 It was a bright Mediterranean day in 1987. The resort was drenched in sun, looking like something from a travel brochure.
We'd gathered in the car park, hundreds of Western peace activists who'd come to Tripoli for the first anniversary of the US bombing of the city, waiting to leave for the airport. The coaches were ready, engines idling. But there was a delay. Rumours flew around the complex like pigeon post: the police were detaining us; a dead body had been found. No one knew who it was.
Eventually, there was a surge of activity. Everyone piled onto the coaches. Our driver set off like a maniac to make sure our flight left on time for its landing slot in Paris, the most direct route home. The plane was antique but we made it to Orly, transferred to Charles de Gaulle and got back to Heathrow, still none the wiser about the body.
A day or two later, there was a newspaper report. A Canadian journalist, 31-year-old Christoph Lehmann- Halens, had been found dead on the ground next to the hotel. He was a peace activist who also worked as a reporter for the Southam News Agency in Ottawa. A Canadian official said: "We're not speculating one way or another whether he fell or jumped or was pushed."
Another report quoted Canadian delegates anonymously claiming there had been "a violent ideological dispute within the delegation between peace movement workers and a group from Canada's right-wing National Party". A man from the Danish Embassy, which represented Canadian interests in Libya, added: "It appears that the reporter fell to his death from a 35-foot parapet of the building where he (was staying). There were footprints leading to the edge of the roof."
A waist-high wall was said to enclose the roof, making the possibility of an accidental fall unlikely. The official Libyan post mortem found no alcohol or drugs in Lehmann-Halens's blood and suggested it was suicide. But his parents insisted he had no intention of taking his own life and had written saying he would be visiting them at their home in Germany.
A report in The Charlatan, the student newspaper at Carleton University where Lehmann-Halens had studied, described him as a founding member of the Ottawa Disarmament Coalition. His co-founder Jeff Bickerton was quoted saying he was "very thoughtful (and) added life and vitality to our meetings." A Carleton student, Hein Marais, who also attended the peace conference, said: "All I know is that this incident has entrenched the Western world's racist view of Libya, that it's an uncivilized Third World country run by a flake."
To this day, Lehmann-Halens death is a riddle. Collateral Damage is not an attempt to offer an explanation for it. My victim, Tom, is from London not Ottawa and his partner, Ayesha, pursues the truth fearlessly to a final conclusion. The characters and the story are entirely fictional.
It would, though, be disingenuous to deny that the experience of going to that conference and being so close to the scene of someone's death has influenced and informed the book. I hope, in an indirect way, it contributes to the memory of Christophe Lehmann-Halens and the cause of peace for which he worked.
Steve Howell
Author, Collateral Damage
Order a paperback copy of Collateral Damage for the special price of £8.00 including UK post and packing. ORDER HERE
Collateral Damage is also available on Kindle via Amazon at the price of £2.99. ORDER HERE