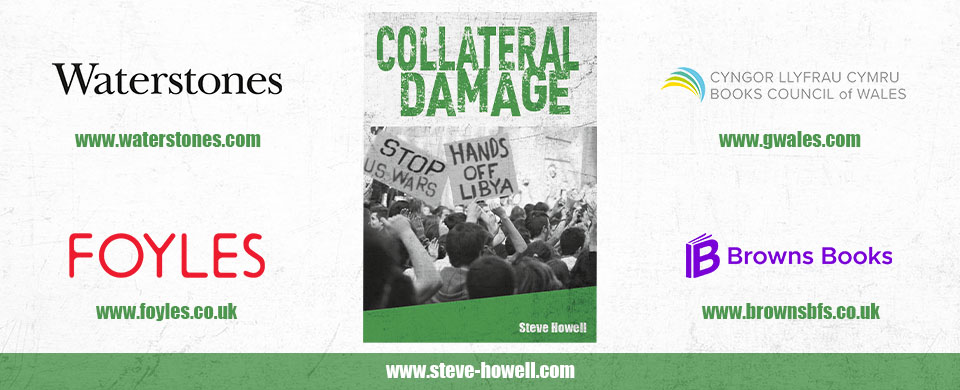 Collateral Damage, the story of a Lebanese-Palestinian woman's struggle to discover the truth about her British partner's death, is on sale through all the usual channels in both paperback and eBook formats.
The paperback can be ordered in the UK at Waterstones, Foyles, Browns and most independent bookshops as well as via their websites. The wholesaler is the Books Council for Wales, which also has a consumer website – www.gwales.com – that sells single copies. The recommended retail price is £8.99. If you have any difficulty obtaining a copy, you will find it helps to quote the ISBN number – 9780993160714.
Ordering the paperback through this website is, however, the best way to ensure that there is enough funding for future print runs. Revenue from commercial sales barely covers previous print costs, never mind marketing and other expenses. The PayPal facility on this site is secure and you don't need a PayPal account to use it – simply click on the ORDER button below and then the 'Pay by Debit or Credit Card' option when you go through to PayPal.
There is a Kindle version of Collateral Damage on Amazon, which sells at £2.99 in the UK, $4.99 in the US and at various other prices in other countries depending on currency exchange rates. While we have made every effort to avoid Amazon, having a Kindle version on their website means readers anywhere in the world have access to the book.
Order a paperback copy of Collateral Damage for the special seasonal price of £8.00 including UK post and packing. ORDER HERE
Collateral Damage is also available on Kindle via Amazon at the price of £2.99. ORDER HERE
The Kindle version is available internationally. For details of how to order the paperback from overseas, please email: quaeropublishing@btinternet.com.