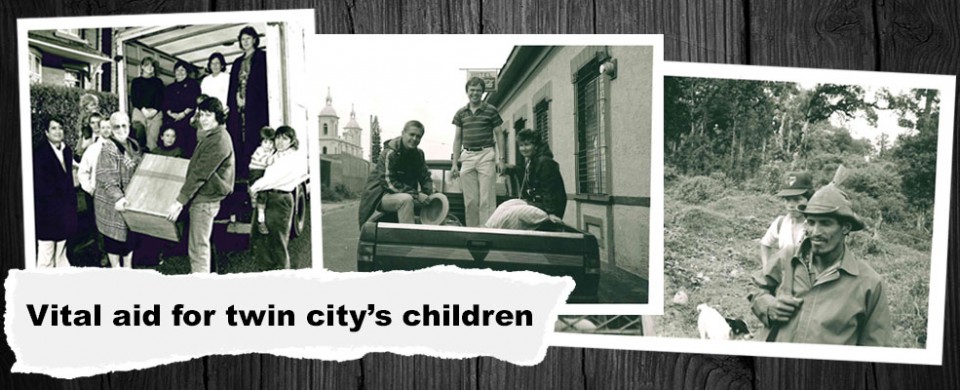 It's 1989, and I'm on my own on a long haul flight returning to Britain from Central America. I had been visiting Esteli, Sheffield's twin city in Nicaragua, with two other people who were travelling back by a different route. Esteli was near the military frontline of resistance to a US-backed insurgency, and we had visited a village in the war zone under armed guard to deliver the proceeds of a public appeal to build a nursery. My mind was overloaded with impressions of spirited people living in harsh conditions. I was brimming with ideas for a novel and writing furiously, filling a thick notebook before the plane touched down at Heathrow.
Twenty-six years later, time's equivalent of a marathon, I have finally completed a novel, but it's not about Nicaragua – the ideas in that notebook never went any further. Over those years, I've filled many notebooks, written a few short stories and even churned out more than forty thousand words of an unfinished novel. I kept saying to myself that the pressures of the day job would ease and I would, sooner or later, have time to write a book, a whole one.
About two years ago, I realised I was deluding myself, that I would have to make time or never do it. I had by then already done the research for Over The Line and was clear about the main characters and the issues they were going to face, but I was struggling with the plot. Jane Campion, the screenwriter of The Piano and Top Of The Lake, once said: "Creativity is like a visitor to a relaxed space inside you – it comes when you're not trying". That summed up my problem, and I have that quote posted on the wall next to my desk to remind me you cannot approach creative writing like every other task on the 'to do' list: your brain needs to switch off and then on again like a computer re-booting.
The core of the plot came to me when I was on holiday. I still have the notes of that moment as well as jottings from many others in the 12 months or so that followed where ideas for back story, dialogue or character would come to me unexpectedly when I was relaxed. That was often while I was out for a run or walk but it could be when I was cutting the grass, cooking a meal or reading the papers. The main ingredient was being away from all the noise of social media and e mail.
Those creative ideas shaped and propelled the process, but I still had to put in the hours in front of a screen to produce 85,000 words. I have never run a marathon and can only imagine what it's like to complete one. I suspect my euphoria at finishing Over The Line was similar and, like a person addicted to distance running, I'm now preparing for the next one. It isn't going to be about Nicaragua though. I do still have the notebook from that plane journey and may return to those scribbles one day but, for now, my Jane Campion moments are taking me in a different direction.
Steve Howell
Steve is author of Over The Line, the story of an Olympic athlete whose career is threatened by a police investigation into the steroid-related death of an old school friend. This blog has also been published on the website of The Write Factor, literary consultants who assisted with the editing and publishing of Over The Line.
Photo-album 1989 (left to right): Sheffield Lord Mayor Councillor Phyllis Smith joins Chilean refugees in loading gifts for the children of Esteli; Steve with Councillors Clive Betts (now MP for Sheffield Attercliffe) and Jan Fiore in Esteli, the armed guard for the delegation's visit to the war zone.
Published by Quaero, Over The Line in paperback (£7.99) is on sale at Waterstones and other bookshops or online via this website (post free), Amazon or www.gwales.com. A Kindle edition of Over The Line is available at £3.49 on Amazon.