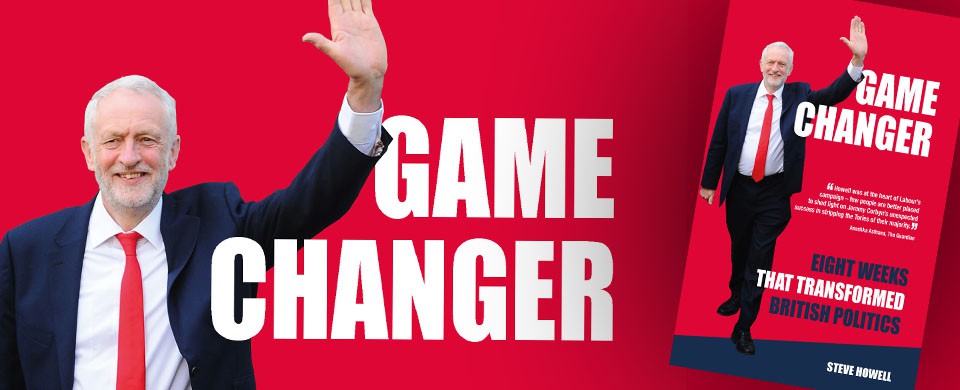 The story of how Jeremy Corbyn defied the odds to deny the Tories a majority in last year's general election is set to be told for the first time by someone who was at the centre of Labour's campaign machine.
Published to coincide with the anniversary of Theresa May's announcement of a snap election (18.4.2018), 'Game Changer: Eight Weeks That Transformed British Politics' (Accent Press) provides a unique personal account of one of the most dramatic political battles of modern times.
Steve Howell, who joined Corbyn's team only two months before Theresa May called the election, tells of the twists, turns and tough decisions from his perspective as a member of the campaign strategy group.
Howell had been running a successful PR consultancy for twenty years and had half an eye on retirement when 'the call' to work for Corbyn came. As a long-standing Labour party member – and old school friend of Peter Mandelson – it was an irresistible opportunity.
Howell took the job but had barely been cleared for a parliamentary pass when the election was called. As deputy director of strategy and communications, he found himself in the thick of what Corbyn would call 'the fight of our lives'.
"We were more than twenty points behind in the polls and to some it seemed the only question was how big the Tory landslide would be," says Howell.
"All the experts were telling us that campaigns don't move opinion more than two or three per cent, that young voters wouldn't turn out, and that no one reads manifestoes.
"But we were always optimistic. We knew how angry people were about austerity, and we put together a campaign that we were confident millions would respond to.
"I had followed Bernie Sanders' campaign for the Democratic nomination for US president at close quarters, and saw in Jeremy someone who could also be a voice for people who had been held back by a society run for a privileged few."
In eight weeks, Corbyn went from being written off to achieving Labour's best vote for twenty years and the largest increase in its vote share since 1945. Far from winning the expected landslide, the Tories were left without a majority and forced to shelve many of their unpopular policies.
Howell was a member of the Labour leader's strategy group and involved in all the key campaign decisions. In Game Changer, he tells his story of eight weeks that transformed British politics.
Signed hardback copies available from April 6, official launch April 18.
Signed copies of Game Changer are available here at the hardback cover price of £15.99 inclusive of UK postage. (Offer ends 18 April, 2018.) PRE-ORDER
The Kindle version of Game Changer at £7.99 is available via Amazon PRE-ORDER