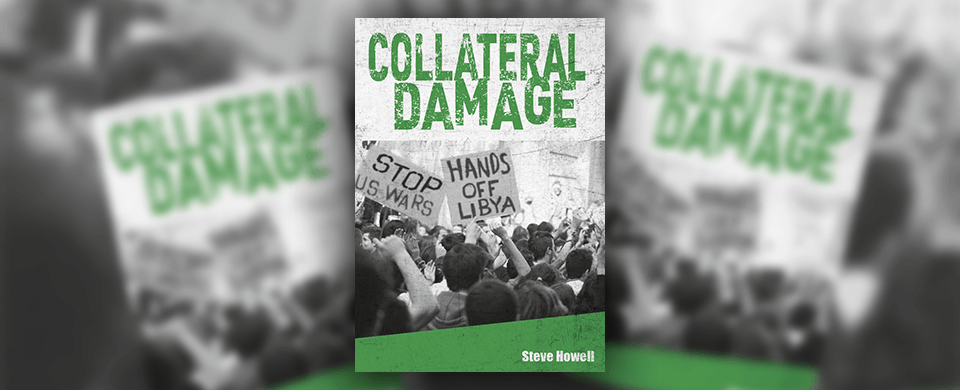 A new novel from Steve Howell tells the story of a Lebanese-Palestinian woman's battle to discover the truth about the death of her British partner, a journalist and peace activist.
Collateral Damage will be published on April 15 and can be pre-ordered using the PayPal facility on this website.
Set in 1987, it follows Ayesha Khoury as she tries get to the bottom of how and why her lover, Tom Carver, died on a beach in Tripoli while attending a peace conference to mark the first anniversary of US air strikes against Libya.
Ayesha has made a life for herself in London – studying at LSE and living with her aunt – having left Beirut traumatised by the Shatila refugee camp massacre five years earlier.
When Tom is found dead, the Libyan authorities – anxious about the diplomatic fall-out – decide it was an accident, and Tom's family aided by the Foreign Office exclude Ayesha from the official inquiries.
But Ayesha won't be deterred and enlists the help of fellow activist Hannah Kennedy and her solicitor friend, Jed McIntosh, to search for the truth – putting their own lives at risk and revealing a shocking abuse of power.
The book's publication coincides with the 35th anniversary of US air strikes against Tripoli – at night and without warning – that killed 37 civilians in an unsuccessful attempt to assassinate Colonel Gaddafi.
The air strikes were condemned by the United Nations General Assembly by a vote of 79 to 28, with 33 abstentions. They were the first US combat operation launched from British soil since end of World War Two and marked the beginning of the era of regime-change wars.
Steve was active in the peace movement in the 1980s and went to Tripoli for a conference on the first anniversary of the US attack in 1987, during which a Canadian journalist was found dead.
He says: "Though that experience informed and influenced my novel, the story of Ayesha's battle to discover the real reason for Tom Carver's death is entirely fictional. The death of Christoph Lehmann-Halens remains to this day unexplained."
Order a paperback copy of Collateral Damage for £10.00 inclusive of P&P (UK only). ORDER HERE
The Kindle version is available internationally. For details of how to order the paperback from overseas, please email: quaeropublishing@btinternet.com.