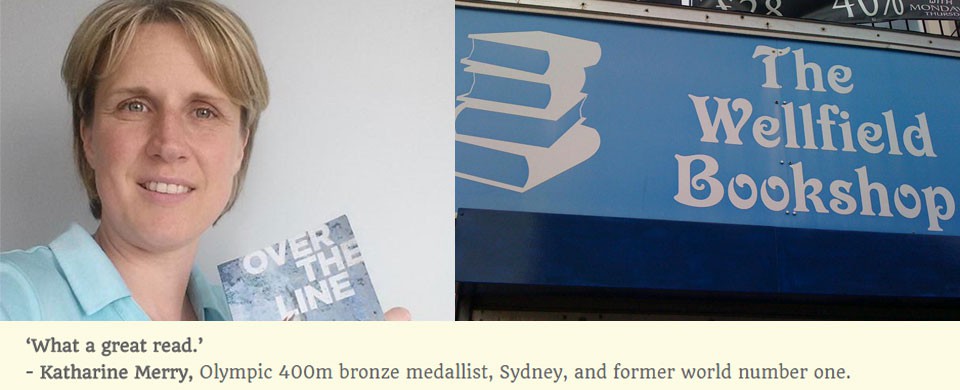 Wellfield Books in Cardiff is the latest independent store to organise an event to discuss Over The Line and introduce the author, Steve Howell.
The well-known bookshop in the Roath area of the Welsh capital will be hosting the signing and Q&A on Thursday 12th November at 7pm.
"I'm really looking forward to this event because Wellfield has a great reputation," said Steve. "One of the most enjoyable aspects of promoting Over The Line has been getting to know more about the independent sector.
"The support I've had has been fantastic with events around south Wales and orders from stores in London, Sheffield and other parts of England.
"The indys face tough competition from Amazon and the big pile-them-high retailers but they have fought back by offering more in the way of events and specialist knowledge.
"The reality is that authors and publishers cannot afford to ignore Amazon – especially for Kindle and overseas sales – but there is nothing like browsing in a bookshop and being able to ask expert staff for advice.
"Everyone I meet in the independent sector is really passionate about books and keen to champion new authors and new subjects."
Sales of Over The Line have been boosted recently by a spate of positive reviews and endorsements, including from Independent on Sunday columnist Michael Calvin.
In a tweet, the author of Proud (with Gareth Thomas) and Living On The Volcano, said: "The heroine of British athletics, tainted by doping and death. Couldn't happen? Read Over The Line by Steve Howell and decide. Absorbing."
The book has also had positive coverage in Athletics Weekly, Western Mail, Buzz Magazine, South Wales Argus and on Radio Wales. Meanwhile, Katharine Merry – bronze medallist at the Sydney Olympics – described it as "a great read" and Nigel Walker – the former rugby and athletics international – called it "an informed, fast-paced tale of suspicion, bereavement and betrayal".
"We're delighted to welcome Steve to Wellfield Books. It's always great to meet debut authors and be able to support creativity in Wales," said Hannah Liddle, Manager at Wellfield Books.
"Being an independent store gives us the freedom to really get to know our customers and introduce them to books they'll love. We're sure Over The Line will grab the attention of sports fans and thriller aficionados alike."
The Wellfield event is open to anyone interested in attending. People are welcome to turn up on the night, but the organisers would be glad of an e mail or tweet if you know you are definitely coming.
Copies of Over The Line in paperback (£7.99) are on sale at the shop now. The book is also stocked by other independent bookshops in Wales and at Waterstones branches in Cardiff and Newport.
In England, Over The Line is available at Bookmarks in London and at Books On The Park in Sheffield and can be ordered at other stores by quoting ISBN 978-0-9931607-0-7 and the Welsh Books Council as the wholesaler.
If you have any difficulty, orders can be placed (post free) via this website – ORDER
The Kindle edition of Over The Line is available at £3.49 on Amazon – ORDER